Positive Discipline in the Classroom
JULY 17, 24 & 31, 2021  (3 SATURDAYS)
ONLINE VIA ZOOM  9-3 p.m. CET (Madrid) with a 1 hour lunch break each day.
Become a Certified Positive  Discipline Classroom Educator!
This 15 hour interactive workshop is designed for teachers, counselors, school staff and administrators who want an effective discipline approach based on Adlerian Psychology, that integrates social and emotional learning while reducing challenging student behaviors.
Attendees will earn recognition as a Certified Positive Discipline Classroom Educators and will learn to: 
Develop a large teaching toolbox of kind and firm discipline approaches. 
Establish explicit classroom structures and procedures. 
Create an equitable classroom community based on mutual respect. 
Understand the motivation behind students' misbehavior and how to encourage positive change. 
Facilitate effective class meetings teaching social skills and problem-solving. 
Learn Positive Discipline/Adlerian Psychology for use in the classroom and school community.
Materials (soft copy) Included: 
Positive Discipline in the Classroom (PDC) Book 
Positive Discipline in the School and Classroom Manual 
In addition to the live training, you will have access to online video streaming 
Positive Discipline Teacher Tool Cards 
Parenting with Positive Discipline
FREE Intro Class via Zoom
One hour on Tuesday, August 24, 2021 at 7:00 p.m. PST (California)
One hour on Thursday, October 7, 2021 at 11:00 a.m. CET (Madrid)
One hour on Thursday, October 14, 2021 at 12:00 p.m. CET (Madrid)
To register and receive the Zoom link, email: julie@parentingforabetterworld.org
6 Session ONLINE Interactive Parenting Course via Zoom
The following courses are available:
Tuesdays from 7-8:30p PST (California)
September 7-October 12, 2021
Thursdays 11-12:30h CET (Madrid)
November 4-December 9, 2021
This course combines elements of all three parenting courses and is open to parents of children of all ages.
Topics covered include:
How to avoid power struggles and invite cooperation
Connection before correction
Kind AND firm parenting
How to focus on solutions without blame and shame
Family meetings
Natural and logical consequences
Encouragement vs. praise
How to teach children to self-regulate through positive time out
Alternatives to punishment without being permissive
Other problem-solving tools such as the wheel of choice
Explore 52 Positive Discipline tools that really work!
Price:
$150 USD (US Dollars) per person
* Note that these are highly discounted prices to support families during the Covid-19 pandemic. The in-person fee for this course is usually $225 USD per person.

**Please order Positive Discipline as an accompanying text for this course.**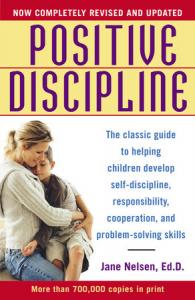 * Make sure to select the EBook option before purchasing.
Please also order the Positive Discipline Tool Cards (can also be the pdf version) for use in the course.